Starbucks has so many drinks that are hard to exhaust since it keeps introducing more occasionally. Read on to discover the best underrated Starbucks drinks that you should try.
Most customers order the same drink, and this can get boring. Since I am a Starbucks regular, I had crammed my order. I once went to a Starbucks with my friend, who encouraged me to try something different. This made me discover the best-underrated drinks that I had been missing out on. I wrote this post to share them with you and inform you of what they contain.
How we choose the Best underrated Starbucks drinks
The Starbucks drinks on this list were chosen based on specific criteria. The most crucial aspect we considered when choosing the best-underrated drinks at Starbucks is the nutritional value. We talked to different Starbucks customers and found out that one of the reasons why some drinks are underrated is due to their nutritional content.
According to the feedback we got, most health-conscious customers avoid drinks with high-calorie content since certain Starbucks drinks often lead to weight gain. We also chose the best-underrated drinks at Starbucks based on their taste. We discovered that some Starbucks customers judge the taste of certain drinks based on their ingredients. Some assume that certain drinks are too sweet or spicy.
We also came up with the list of the best-underrated drinks at Starbuck based on how less popular they are among customers. We discovered that while some Starbucks drinks are quite popular, some underrated drinks are not even known by customers.
You can trust this post since it also informs you on why the drinks are underrated and how you can make changes as you order them to enjoy them more. It also includes information on their ingredients so you can know what they contain.
4 Best underrated Starbucks drinks
| | | |
| --- | --- | --- |
| Ranking | Drink | Ingredients |
| 1 | Cinnamon Dolce latte | Espresso, cinnamon dolce syrup. 2% milk, whipped cream, cinnamon dolce sprinkles |
| 2 | Gingerbread latte | Signature espresso, gingerbread syrup, steamed milk, whipped cream, wafer topping |
| 3 | Dirty Chai | Chai latte and shots of espresso |
| 4 | Cold-brew | Ice and brewed coffee |
Cinnamon Dolce latte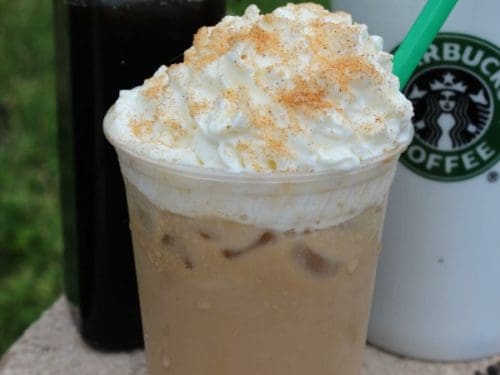 Though this Starbucks drink has been on the menu for a long time, it is underrated and does not have a lot of fans. One of the reasons behind this is that some people feel that it might be too sweet. Others avoid it since it contains cinnamon that is spicy. Since not everyone is a spice lover, the drink is not as popular as other Starbucks beverages.
Despite this, Cinnamon Dolce Latte is a great beverage that you should try at least once. Before you judge it too fast, you should first find out what it contains. This drink is made up of 2% milk, cinnamon dolce syrup, shots of espresso, and topped with some whipped cream. Starbucks baristas also add cinnamon dolce sprinkles to this drink to make it more delicious.
If you are worried about this beverage being too spicy, you can order it with fewer pumps of cinnamon dolce syrup. This drink is sometimes underrated due to its calorie content. You don't have to order a grande of this drink if you are trying to consume fewer calories.
While a grande of this beverage has 340 calories, a short cup of this has 190 calories. If you have not yet tried this Starbucks beverage, you should since it will remind you of homemade snickerdoodles.
Gingerbread latte
Some white chocolate mocha fans underrate this Starbucks drink since it does not have an overpowering sweetness. However, you should not overlook this beverage since those who have tried it reveal that its sweetness is the perfect amount.
Though this Starbucks drink is not always available throughout the year, you should order it during the holidays since it is worth your cash. The beverage can keep you warm, especially during the cold months, and also get you through the day energized since it contains caffeine.
It is made up of signature espresso, gingerbread syrup, steamed milk, and whipped cream that is gingerbread flavored. You can also order this Starbucks drink with some wafer topping. This gives it not only a captivating look but also a crunchy texture. If you want this Starbucks drink to be sweeter, feel free to order it with some vanilla syrup.
Some people also avoid this beverage due to its calories. A grande Gingerbread latte has 320 calories. You can, however, reduce the number of calories by ordering the drink in small cup size and minimizing the customization options.
Dirty chai
Though this Starbucks drink is quite delicious, it is underrated since some people feel that it is too sweet and therefore do not order it a second time. Dirty chai falls under the Starbucks secret menu.
It is made up of espresso and chai latte. If you like chai latte, you should try this drink since you are likely to enjoy it. It can also give you an extra caffeine kick. Feel free to order this drink cold or hot. If you want this drink stronger, you can order it with an extra shot of espresso.
Cold brew
Though cold brew was quite popular a few years ago, it is no longer in high demand at Starbucks since this company has been introducing more exciting drinks. Cold brew is underrated since not many people like the taste of black coffee.
You can, however, make the drink more exciting by ordering a cold brew with sweet cream and cold foam. If you wish to take healthy Starbucks drinks, do not overlook cold brew since it has low calories.
Informative section
What is the best-underrated drink at Starbucks?
Cinnamon dolce latte is the best-underrated drink. Most people avoid it since they assume it is too spicy. It does not have to be too spicy if you order it with fewer pumps of cinnamon dolce syrup.
Kai Jordan worked as a Certified Nutrition Specialist and now a food critic whose main objective is to provide consumers with as much information as they need to make the right choices concerning foods and drinks. Jordan is passionate about helping the public reach their health-related goals but also keen on reviewing foods and drinks offered by some of the famous restaurants the likes of Starbucks.
Kai has therefore created well-researched and comprehensive excerpts regarding the services and products offered by the giant restaurant chain. And which can be retrieved from Starbmag.com, apart from talking writing, and dealing with food Kai loves also to Kayak. You can read more about me on the about us page.