The pineapple matcha at Starbucks is a fan favorite perfect for those hot and sunny days. But what is in Starbucks Pineapple Matcha drink that makes it so good?
The Starbucks Pineapple Matcha drink is a delicious and refreshing beverage containing the Starbucks matcha tea blend, pineapple ginger syrup, and coconut milk. Before I tried this drink, I was a bit skeptical since it was difficult for me to picture the taste of green tea mixed with pineapple but I got my money's worth.
The Starbucks Pineapple Matcha is my go-to summer drink when that mild caffeine kick. It is a perfect drink for those who are trying to cut down on caffeine like me. It will give you just the amount of energy you need without being too strong. It also has a very tropical feel to it thanks to the pineapple. For those who would love to try out the Starbucks Pineapple Matcha, keep reading to find out all you need to know before you order.
What are the ingredients in the pineapple matcha drink from Starbucks?
The Starbucks pineapple matcha drink is a very simple drink that is prepared by mixing the Starbucks matcha tea blend, pineapple ginger syrup, coconut milk, and ice. The matcha tea blend is simply a combination of sugar and ground green tea. Sometimes the type of milk used can vary depending on the customer's preference. Some might opt for oat milk or almond milk. The coconut milk and ice are a perfect addition to the beverage making it very refreshing and creamy-looking.
What is the nutritional information of a Starbucks pineapple matcha drink?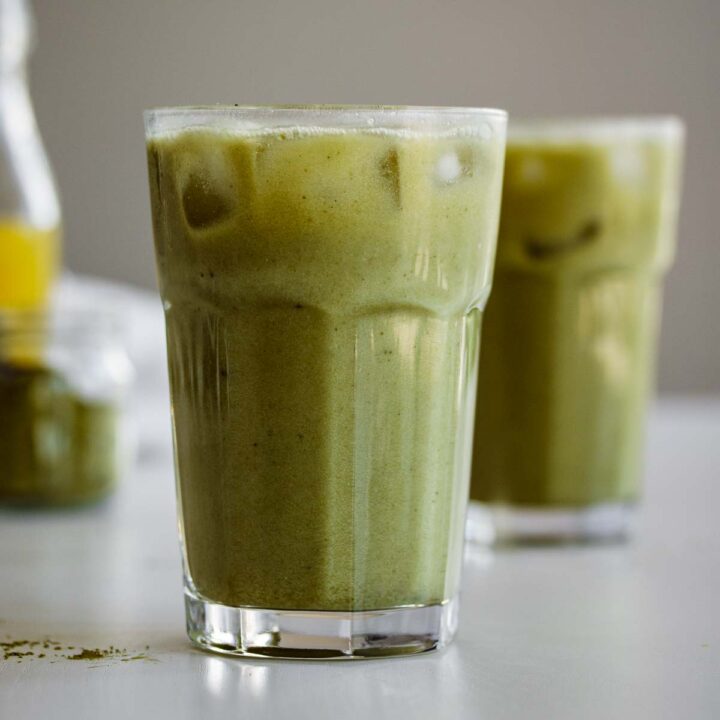 The Starbucks pineapple matcha drink is relatively healthy, containing 170 calories in a Grande. It contains 80 g of caffeine which is significantly lower than Starbucks iced coffee. It is also important to note that it is impossible to have the beverage sugar-free since the matcha blend contains sugar. However, the pineapple matcha contains heart-healthy antioxidants that ward off cancer and keep blood sugar levels level.
Take a look at the table below for more nutritional information.
Serving size Grande (16 fl oz):
Calories 170
Calories from Fat 45

0% daily value

Total Fat 5 g

Saturated Fat 4.5 g

Trans Fat 0 g

6%

23%

0%

Cholesterol
0 mg
Sodium 115 mg
5%
Total Carbohydrates 30 g

Dietary Fiber 2 g

Sugars

11%

7%

27 g

Protein
2 g
Caffeine
80 g
How do you make a Pineapple Matcha from Starbucks?
Sometimes we just don't feel like leaving the comfort of our homes to visit Starbucks stores and this forces us to learn how to make our favorite Starbucks drinks. Or maybe you've traveled and there is no Starbucks store in sight for you to buy the delicious pineapple matcha. Well, luckily, it is very possible to prepare the Starbucks pineapple matcha at home in less than 10 minutes!
Here are the steps needed to prepare this delicious beverage.
Here are the steps needed to prepare this delicious beverage(copycat recipe)
Equipment
Tall Glass

Small mixing bowl

Whisk

Straw

Jug
Ingredients
1 ½ teaspoon of green tea powder

¼ teaspoon of ginger powder

1 cup of pineapple juice

1 ½ cups of coconut milk

2 tablespoons of simple syrup (optional)
Instructions
Pour the green tea powder, ginger powder, and a third of the pineapple juice into a mixing bowl and whisk to dissolve the powder

Pour the coconut milk into the jug.

Stir in the remaining pineapple juice and the ginger and green tea mixture into the milk. At this stage, you can include 2 tablespoons of simple syrup if you want.

Pour the mixture over a glass filled with ice.

Put in a straw and enjoy.
Notes
If you want your drink to be stronger and sweeter, you can use less coconut milk, whereas to make it mild-tasting and creamy, use more coconut milk.
If you're a lover of more sweet and sour types of drinks, which happen to be my personal preference, you can add a ½ ounce of lime juice. This will make the pineapple matcha taste amazing!
As you prepare the drink, you can use different plant-based milk like almond or oat milk. However, keep in mind that the finish taste will be different. If you want to make your drink creamier, use dairy milk.
The drink is called Pineapple Matcha but this does not restrict you from using other fruit juices. Make it to your taste next time and use orange or cranberry juice. You might end up loving your customized alternative even more.
How can I order a Pineapple Matcha drink at Starbucks?
To order a Pineapple Matcha at Starbucks, simply tell the barista that it's your drink of choice and it will be made for you. Also, remember to request the size you want as you order. The Pineapple Matcha comes in three cup sizes. The Tall (12 fl oz), Grande (16 fl oz), and Venti (24 fl oz). You can also request the barista to customize it for you. Some common customizations include a milk alternative and a few pumps of sugar-free vanilla.
What does Starbucks' Pineapple Matcha drink taste like?
It can be quite difficult to picture the taste of green tea and pineapple, but Starbucks went out of its way to make these different flavors blend so nicely. The ingredients give the drink a tropical and earthy vibe and as you sip the drink, you can taste the refreshing and lightly sweet coconut and pineapple. You can also taste the matcha but it is toned down to a delicious and warm taste thanks to the ginger syrup. Some might find the taste a bit similar to the Pina Colada Matcha. A Pineapple Matcha which has a syrup will have the same rich and pleasant taste, only sweeter. Feel free to try this customization out and give your taste buds something different once in a while.
Nonetheless, I believe that a person's desire to taste food or drink starts from its presentation and the Pineapple Matcha does not disappoint. It looks very appealing thanks to its beautiful green hues. So next time you order the drink you can take a few seconds and take a cool photo for your Instagram aesthetic!
FAQ Section
Is there caffeine in Starbucks Pineapple Matcha?
Yes, the Starbucks Pineapple Matcha contains 80 mg of caffeine.
Is the Pineapple Matcha drink at Starbucks healthy?
Yes, the Pineapple Matcha drink at Starbucks is pretty healthy since the three ingredients used are all healthy.
Does Starbucks Matcha have sugar?
Yes, the Starbucks Matcha has sugar since it is prepared by combining sugar and ground Japanese Green Tea.
Is Starbucks Pineapple Matcha drink seasonal?
No, the Starbucks Pineapple Matcha drink is available all year round.
How much is the Starbucks Pineapple Matcha drink?
The price of a Grande-sized Pineapple Matcha at Starbucks ranges from $4.95 to $5.75.
Can I use almond milk instead of coconut milk to make the Starbucks Pineapple Matcha drink?
Yes, you can use almond milk to prepare the Starbucks Pineapple Matcha drink but the finish taste will be different.
Kai Jordan worked as a Certified Nutrition Specialist and now a food critic whose main objective is to provide consumers with as much information as they need to make the right choices concerning foods and drinks. Jordan is passionate about helping the public reach their health-related goals but also keen on reviewing foods and drinks offered by some of the famous restaurants the likes of Starbucks.
Kai has therefore created well-researched and comprehensive excerpts regarding the services and products offered by the giant restaurant chain. And which can be retrieved from Starbmag.com, apart from talking writing, and dealing with food Kai loves also to Kayak. You can read more about me on the about us page.