Many people can always count on Starbucks lattes to fulfill their caffeine needs. But those who have never been to Starbucks might wonder what is an iced latte at Starbucks and what else does this beverage entail?
The Starbucks Iced Latte is a refreshing coffee-flavored drink containing espresso shots, milk, and ice. Starbucks has always been my go-to store when I need my coffee needs fulfilled. When I moved to the U.S about two years ago, I visited Starbucks for the first time and the Iced Latte was one of the first drinks that I tried on the menu and I instantly fell in love. I'm not big on strong coffee-flavored drinks but the Iced Latte has such a balanced and mellow milk and coffee flavor that's not too strong and overpowering. It also provides the energy I need to go about my day. So if you're looking for a simple but tasty drink on the Starbucks menu that's not too strong on the coffee taste, the Iced Latte might be the drink for you.
Starbucks iced latte nutrition
The nutrition information for the Starbucks iced latte varies depending on the size of the drink.
Serving size Grande (16 fl oz)
Calories 130g
Calories from fat 40g

0% daily value

Total Fat 2.5g

Saturated Fat 2.5

Trans Fat 0g

6%

13%

0%

Cholesterol 20 mg
7%
Sodium 115 mg
5%
Total Carbohydrates 13 g

Dietary Fiber

Sugars

5%

0 g

11 g

Protein
8 g
Caffeine
150 mg
What is in the Starbucks iced latte (Ingredients)?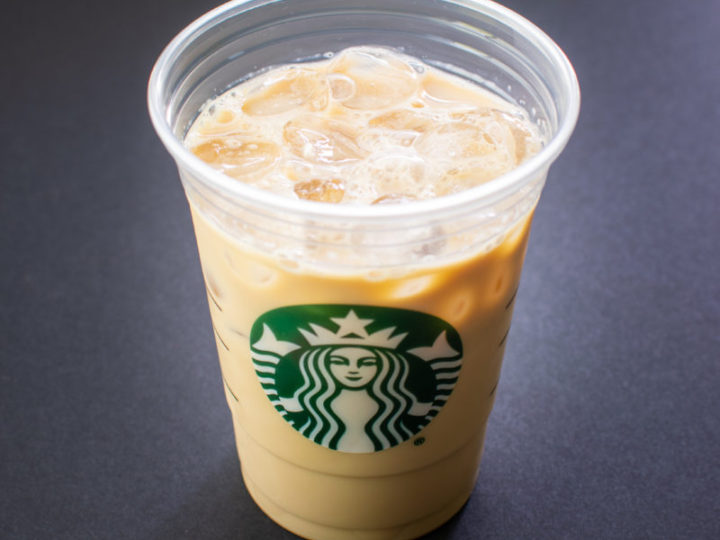 The Starbucks Iced Latte is a pretty simple drink that is prepared by combining 2% milk, 2 shots of the Starbucks signature brewed espresso, and ice. As opposed to Iced coffee which has a higher amount of espresso than milk, the Iced Latte is a milk forward beverage and the best part is, you can use whichever type of milk you want such as almond milk, soy milk, or oat milk. The 2% milk also provides the latte with 11 grams of sugar.
Can you make the Starbucks iced latte at home?
Maybe you've traveled and a Starbucks store is out of reach, or perhaps you're stuck babysitting and you can't pay a quick visit to a Starbucks store to buy their delicious iced latte. Fortunately, the Starbucks iced latte can be made in the comfort of your own home and you will be able to soothe this craving with a snap! Making this drink at home is quite simple and it actually can be quite fun. I like to try making Starbucks drinks in my free time when I would like to save some money or sometimes just to test my coffee-making skills.
How to make the Starbucks Iced Latte at home?
How to make the Starbucks Iced Latte at home? (Copycat recipe)
Equipment
Tall Glass

Espresso machine

Mason jar
Ingredients
¾ cup of milk

Ice cubes

2 shots of brewed espresso

Sweetener (optional)
Instructions
Fill a glass with ice and pour in 2 shots of freshly brewed espresso.

Fill a mason jar halfway with milk. You can include a sweetener such as classic syrup or vanilla.

Seal the mason jar and shake the milk until it foams.

Pour the milk into the ice-filled glass over the espresso and enjoy.
How to order a Starbucks iced latte?
To order a Starbucks iced latte, simply tell the barista and it will be made for you. Also, remember to include the size you want as you order. The beverage can be served in Tall (12 fl oz), Grande (16 fl oz), or Venti-sized cups (24 fl oz).
Starbucks provides versatility in its drinks which keeps their customers and makes them come back for more. I'm guilty as charged myself. I love how I can be able to give my drinks a personal touch by tweaking them a little. Not to mention it's fun! As you order the Starbucks Iced Latte, you can make the drink vegan by requesting plant-based milk such as almond, soy, or oat milk. If you are a sweet tooth, you can request the barista to add a few pumps of flavored syrup. Some popular syrups available at Starbucks are vanilla syrup, cinnamon dolce syrup, hazelnut, caramel, white mocha, mocha, peppermint, and toffee nut. You can also ask for extra shots of espresso if you need that extra caffeine kick. If you want a latte but the cold weather does not allow you to enjoy your iced latte, you can order your latte hot and it will be served with steamed milk and not over ice.
What does Starbucks Iced Latte taste like?
The Starbucks Iced Latte has a flavorful coffee taste. ¾ cup of milk is added and this provides the latte with just the right amount of sweetness without completely overpowering the subtle taste of the espresso shots. The perfect balance of skimmed milk and espresso shots gives it a mellow taste which is perfect for people who are not fans of strong-tasting cups of coffee. The taste of the beverage can also vary with preference. An iced latte that has a sweetener such as sugar or syrup, will have an extra sweetness to it.
FAQ Section
How much caffeine is in Starbucks Iced Latte?
The Starbucks Iced Latte contains 150 mg of caffeine.
Is the Iced Latte Sweetened at Starbucks?
The Starbucks Iced Latte does not come sweetened but you can request a few pumps of syrup.
How long does it take to make the Starbucks Iced Latte at home?
It takes approximately 12-15 minutes to make the Starbucks Iced Latte at home.
How many espresso shots are in an iced latte?
An iced latte contains 2 shots of espresso.
How much is the Starbucks Iced Latte?
The Tall is $2.95, the Grande is $3.65 and the Venti is $4.15.