Have you tried a light coffee that is still intense and flavorful? Starbucks has the blonde roast to give you a decent caffeine boost without the bitter espresso taste. Discover how to order blonde roast coffee at Starbucks.
To order the Starbucks blonde roast coffee, choose any espresso-based beverage and swap the espresso for a blonde roast. Devouring different coffee flavors is my favorite hobby, which is how I stumbled on the Starbucks blonde roast coffee. I was going about my business at Starbucks one morning when the person ahead of me ordered a blonde roast. I quickly switched from my usual latte to the blonde roast, a decision I did not regret. If you haven't tried out this gem, you are missing out. The coffee is delicious, light, and refreshing 😊. If the ordering process for this coffee is holding you back since you do not know how, keep calm, for I will teach you every step. If you aren't a dark roast fanatic, the beverage is perfect. Keep reading to find out how to order this delightful coffee and so much more.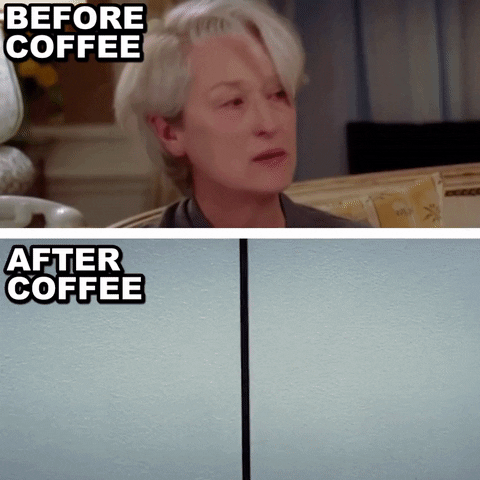 Via Giphy
What does Starbucks' blonde roast coffee taste like?
The Starbucks blonde roast coffee is smooth and slightly sweet with an intense flavor. The beverage has a delicate balance that makes it appetizing but not overwhelming. It is creamy and pairs beautifully with milk. The blonde roast coffee might be light on the coffee, but it has bursts of flavor with exquisite citrus notes of lemon, orange and hints of caramel. How yummy is that! Since it has a short roast time, it retains the coffee's natural sugars. The coffee has a mellow but bold taste. It is less bitter and doesn't have that robust roast-like taste in darker roasts. The color of the beverage is lighter compared to a dark roast. Even with its amiable flavor, the blonde roast is packed with caffeine, like a dark roast 🤩. What more could you ask for? The blonde roast coffee is perfect if you enjoy lighter coffee or need to switch up.
What are the ingredients of Starbucks blonde roast coffee?
The main ingredient for the Starbucks blonde roast coffee is lightly roasted coffee beans. The roast time for the beans is shorter than for a medium or dark roast. It is the lightest on the spectrum. The coffee blends Latin American and African coffee, bringing out light and sweet citrus notes. It is low in acid and made with 100% Arabica beans. Any espresso-based beverage can make blonde roast coffee. The Blonde Vanilla Latte comprises brewed blonde espresso, milk, and vanilla syrup. The beverage can include ice if it is served cold. The Blonde Caffe consists of brewed blonde espresso and water.
What are the sizes of Starbucks blonde roast coffee?
The Starbucks blonde roast coffee comes in short, tall, Grande, and venti. A short is 8 ounces, a tall is 12, a Grande is 16, and a venti is 20 ounces. For this delicacy, I would go for a venti any day! 😌
How to order Starbucks blonde roast coffee?
You can order the Starbucks blonde roast coffee with any espresso-based beverage like a Macchiato or latte. Start by selecting your espresso-based beverage and size, then tell the barista you would like a blonde roast. You can also choose an existing blonde roast coffee from the Menu, like the Blonde Vanilla Latte.
How to order Starbucks blonde roast coffee on the app
To order the Starbucks blonde roast coffee online, open the app to reveal the Menu.
To get a blonde roast, select any espresso-based drink and customize it by selecting a blonde espresso roast instead of the default. Alternatively, you can select the brewed coffees that feature a Blonde roast, like the Veranda Blend, and customize by adding milk and any other flavors.
Select your size, espresso shots, and other additions like syrups and toppings.
Confirm your pick-up location, check out, and place your order.
Ordering ahead on the app will save you from those long annoying queues 😥. You can also use third-party delivery apps like Uber Eats to deliver your blonde roast coffee to your doorstep.
FAQ Section
How much is Starbucks blonde roast coffee?
Depending on the coffee, a Starbucks blonde vanilla latte can range from $3.85 for a short to $5.25 for a venti.
How much caffeine is in Starbucks blonde roast coffee?
The caffeine in a Starbucks blonde roast coffee depends on the size and beverage. A short can range from 85 mg for a Hazelnut latte to 180mg for brewed coffee. A venti can range from 170mg for a Hazelnut latte to 475mg for brewed coffee. A blonde espresso shot has an average of 85 mg of caffeine.
Kai Jordan worked as a Certified Nutrition Specialist and now a food critic whose main objective is to provide consumers with as much information as they need to make the right choices concerning foods and drinks. Jordan is passionate about helping the public reach their health-related goals but also keen on reviewing foods and drinks offered by some of the famous restaurants the likes of Starbucks.
Kai has therefore created well-researched and comprehensive excerpts regarding the services and products offered by the giant restaurant chain. And which can be retrieved from Starbmag.com, apart from talking writing, and dealing with food Kai loves also to Kayak. You can read more about me on the about us page.