Dutch Bros is a multimillion-dollar company that offers a variety of foods and drinks, one of them being the Dutch Bros smoothies which are not only vegan-friendly but also very delicious and come in a variety of flavors.
If you have difficulty choosing the best smoothies to try at Dutch Bros, I got you. This company prepares extravagant smoothies made of fruit syrup or puree blended with ice. Currently, they have four standard smoothie flavors: peach, strawberry, green apple, and mango. As a lover of smoothies, I love trying out different types of smoothies each time I visit the Dutch Bros store. With that said, I can confidently attest that I have tried most, if not all, smoothie flavors at Dutch Bros, including the standard ones, which are peach, strawberry, green apple, and mango. So if you are wondering which smoothie to try out next when visiting Dutch Bros, then I have a list of the best smoothies they offer, detailed just for you to try.
Do smoothies at Dutch bros contain dairy?
No. Dutch Bros smoothies are dairy free because of the ingredients used in making them. These drinks are made of a dairy-free Torani smoothie mix. If you are vegan, you can get rid of the whipped cream and could also inquire from a barista if the flavors used in preparing your drink are dairy free.
How can I order healthy smoothies at Dutch Bros?
First and foremost, this multimillion coffee company has vegan smoothie options on its menu. Consequently, ask the barista to eliminate whipped and supplement dairy with plant-based milk from oat, soy, almond, and coconut. You can also inquire if vegan-friendly flavorings are available and use them instead of the standard ones. You can also ask for sugar-free syrups and flavorings.
How much are smoothies at Dutch Bros
As much as most people think these prices are overrated, they are pretty affordable, considering the quality of the drink. The smallest size, 16 ounces, ranges between $2.50 to $3.50, $4.00 to $5.00 for the medium, 24 ounces, and finally, $5.50 to $7.50 for the largest size, 24 ounces. Below is a table showing the above information.
| | | |
| --- | --- | --- |
| Smoothie Flavour | Size | Price |
| Strawberry, Peach, Mango, Green apple, Wildberry, Lava flow, Pink Flamingo, Caramel apple | Mini(16oz) | $2.50-$3.50 |
| | Medium(24oz) | $4.00 to $5.00 |
| | Large(32oz) | $5.50 to $7.50 |
Are there natural fruits in Dutch Bros Smoothies?
Yes, Dutch Bros smoothies are made from real fruits from various options, including pineapple, strawberry, apples, mangoes, and raspberry, among many others. So if you are a fruity-flavored person, this is a plug.
How we choose the best smoothies at Dutch Bros
The products mentioned below were categorically picked and ranked based on some factors, which include online reviews and ratings from its customers, oral opinions from its customers and baristas, ingredients used in making them, and the frequency at which they are bought. We did not base it on the calories since most of its consumers want a good time with a fantastic drink despite its calorie level. Baristas gave us expert reviews while we looked at what individuals felt about various flavors online and in physical stores. You can trust this list because it is derived from the top-rated flavors that we also took time to test.
Nine Best Dutch Bros Smoothies
Mango Smoothie
The Mango Smoothie is one of the most popular and most consumed drinks at Dutch Bros. The drink combines mango syrup or puree with ice to give you a burst of sweet tropical flavor fancied with whipped cream to give you a masterpiece. You can also customize the drink by asking your barista to apply the parfait style, which includes using whipped cream all over the drink to make it even cuter and less heavy. You can also ask for the dairy milk to be substituted with plant milk such as soy, oat, coconut, and almond if there is any in your drink. If you are vegan, you are advised not to use whipped cream for health purposes. The smallest size of this smoothie has 410 calories, while the medium has 590 calories, and the largest has 780 calories.
Lava Flow smoothie
The base ingredient in the Lava Flow smoothie is the mango smoothie which is among the most popular and most consumed smoothies at Dutch Bros. This sweet smoothie is a product of finely blended mango smoothies, whipped cream, and strawberries. It's an ancient that only a few Dutch Bros customers get to remember and encounter. This drink has, however, been revived by customization. All you need to do is know what you want and explain it to the barista; he will do the rest for you.
Pink Flamingo smoothie
The Pink Flamingo Smoothie is made by thoroughly blending Strawberry smoothie, peach smoothie, whipped cream, and white chocolate to create a fine delicious mixture. The Pink Flamingo smoothie, also a fan favorite at the store, was inspired by the rebel version of it. Luckily it's also available in many other options like the frost. If you are a smoothie person but do like caffeine or you are caffeine intolerant, then the Pink Flamingo smoothie is the perfect pick-me-up option for you. To make it dairy-free, you could request your barista to eliminate the sugar and use sugar-free syrups and flavors if you don't like sugary drinks.
Caramel Apple Smoothie
The Caramel Apple Smoothie is one of the sweetest smoothies on the Dutch Bros menu. This drink is made by combining the green apple smoothie, whipped cream, and caramel drizzle. You can customize the drink by adding brown sugar. The Caramel apple smoothie is among the most simple yet so delicious smoothies at Dutch Bros. This fall drink is also one of this store's famous and most consumed drinks. If you are yearning for some apple pie taste, caramel drizzle is the drink for you as it also gives the classic green apple smoothie vibes, plus a touch of whipped cream.
Green Apple smoothie
Then Green Apple Smoothie is definitely your to-go-to smoothie if you are looking for a drink that offers greatness and nutritional value to your body. This not only helps decrease blood pressure but also helps in faster healing and better protection of one's eyesight. This drink is among the overly loaded smoothies at Dutch Bros made by mixing spinach, banana, apple, pineapple, fresh lemon juice, and honey to give an executive taste.
The Hawaiian Smoothie
The base ingredient in preparing this smoothie is the peach smoothie and strawberry, which also happens to be the fan-favorite smoothies from Dutch Bros. The Hawaiian Smoothie is made by combining the peach smoothie with the strawberry smoothie, then topping it up with whipped cream, banana, and orange to give a top-notch combination. This drink is also another inspiration by the rebel; if that is not all, it is caffeine free. As the name suggests, this drink has a fruity flavor of cocktail accompanied by a lot of freshness.
Peaches smoothie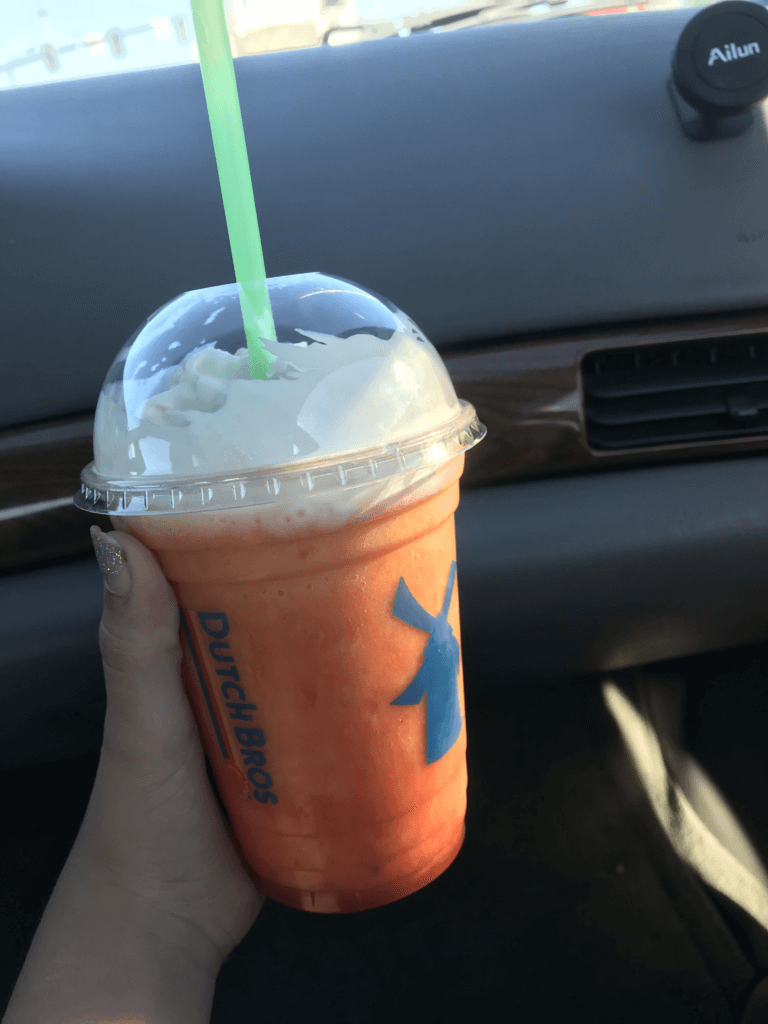 The peaches smoothie is among the best options you could consider if you intend to pull out some summer vibes visiting any Dutch Bros outlet. This drink is unique due to the fact that it's not only sweet but also has a number of health advantages. This smoothie is prepared by combining slices of peaches, vanilla almond milk, vanilla-flavored protein powder, and ground cinnamon to give you a simple but delicious drink. The peach smoothie is not only prepared with refined sugar but is also dairy free, making it vegan.
Strawberry smoothie
The strawberry smoothie is among the most simple yet unique smoothies available at the Dutch Bros store and has a customization option of the parfait style and is also available in the dairy-free version. The Strawberry smoothie is made by combining two common ingredients: strawberry smoothie and whipped cream. Besides being low in calories, the strawberry smoothie also helps reduce blood pressure. This smoothie also offers a high healthy nutritional value to its consumer, not to forget it also takes the lead among the most popular smoothies at Dutch Bros.
Sour apple smoothie
The Sour Apple smoothie is the advanced option of the original green apple smoothie. This fan-favorite drink is made by perfectly blending half green apple smoothie plus half lemonade. Increase its sweetness and make it fancier by adding a good amount of whipped cream. If you love sour flavors, this is the drink for you. You can also customize it as a soft top which means you get added an upscale whipped cream that feels more like a marshmallow.
INFORMATIVE SECTION
How big is a large iced coffee at Dutch Bros?
Iced coffee at Dutch Bros is available in various sizes, with the smallest cup, which is the smallest size available, holding a capacity of 16 ounces, followed by 24 ounces which is the medium size, and finally 32 ounces which happen to be the biggest and largest size.
Does Dutch Bros deliver smoothies?
Yes! Dutch Bros does deliver their smoothies. Dutch Bros also offers smoothie delivery services like all other drinks at this store.
Are there vegan smoothies at Dutch Bros?
Yes! Most, if not all, smoothies at Dutch Bros are vegan. Getting rid of the whipped will also help if you are vegan. Inquiring if any of the flavors have dairy milk from the barista might help and supplement with plant-based milk such as coconut, soy, oat, and almond.
Are there gluten-free smoothies at Dutch Bros?
Yes. Dutch Bros offer gluten-free smoothies, which you can enjoy with a celiac patient or those who are gluten intolerant.
Are Dutch Bros smoothies blended?
Yes, since smoothies at Dutch Bros are made by blending fruit syrup or fruit puree with ice to give a masterpiece combo.
How much sugar is in a Dutch Bros smoothie?
The Dutch bros smoothies, the smallest size, which is 16 ounces, contains 70g of sugar.
Do Dutch Bros smoothies have caffeine?
Dutch Bros smoothies do not have caffeine since they have the decaf option, which works perfectly for at least four drinks, including smoothies, Italian sodas, Milkshake, and steamers.